This post may contain affiliate links. Please read my disclosure policy for more info
Starting a blog has literally changed my life. And it can change yours too. Starting a blog is so much more than just having a place to write down your thoughts. If your aim is to make money from your blog, then if you start a blog it means you're also starting an online business. And it's totally possible – even for you!
This blog of mine is only 4 months old today, but it's already helping me to earn money in my sleep.
And you can definitely do it too! You've probably heard other bloggers say this too, but if I can do it, you can do it too.
Aside from making an extra income, there are so many other benefits to starting a blog this year. And if you've been thinking about starting a blog or an online business, I have three words for you – JUST DO IT.
There's never been a better time to get started online. It's easier now than ever before with so many free resources out there to help you get started.
If you still need more convincing, there are a myriad of opportunities that blogging promises. So, fasten your seat belt,  grab a snack and a cup of water (juice maybe?) as I take you through 10 of these reasons to start a blog.
And for those of you go-getters who are already convinced about starting a blog, you can check out my complete guide on how to start a blog for profit right here.

1. An opportunity to be your own boss
This is one of the best reasons to start a blog. If you're able to turn your blog into a profitable business, you get to determine how much you want to earn, what to do and when to do it. As a blogger, the dread of Monday blues lives in oblivion as you can choose to wake up anytime you want to. 
You will seldom worry about having to get through a traffic jam or worry about the curfew and other restrictions placed on movement, you can work from anywhere! 
You get to call the shots without having to worry about a nagging boss or losing your job if the company's stock hits a rock bottom. Take a breath of freedom, start a blog today!
2. Practice makes perfect
Starting a blog entails regular content and article writing and it sure is a perfect medium to up your writing game. 
You do not only get to identify, get acquainted with and master your writing style(s), you also gain more improvement on sentence structure, punctuation and other grammatical factors. Also, it's likely your need to be a better blogger will spark your interest in online writing classes. 
3. With blogging, there's no limit to your creativity
As a blogger, the only board meeting you will be attending before your creative ideas are utilised is the one with your mind, body, soul and maybe spirit. You get to input what you think is best or add a feature to your blog site without having to submit a proposal to your difficult boss.
Blogging gives room for outside-the-box kind of thoughts and ideas and the best job you can have is the one that gives you creative freedom.
4. Showcase your expertise
This is another perfect reason why you should start a blog, as it provides a platform to show what you know and how much you know. For instance, if you chose to work in the personal development niche, you could be a life coach and help people who are in need of your services. 
Whatever niche you choose, blogging gives you room to showcase just how good and informed you are about the subject matter.
5. Skill up!
Starting a blog will help you develop a lot of skills. It gives you the technical know-how that you wouldn't really be learning in traditional jobs. 
Web designing, graphics designing, search engine marketing, writing tools, social media marketing and other tech related systems are typical examples of skills you're likely to learn as a blogger.
Acquiring the aforementioned skills comes as a result of your pursuit to have a better blog, get more traffic to your blog and ultimately reach a larger audience.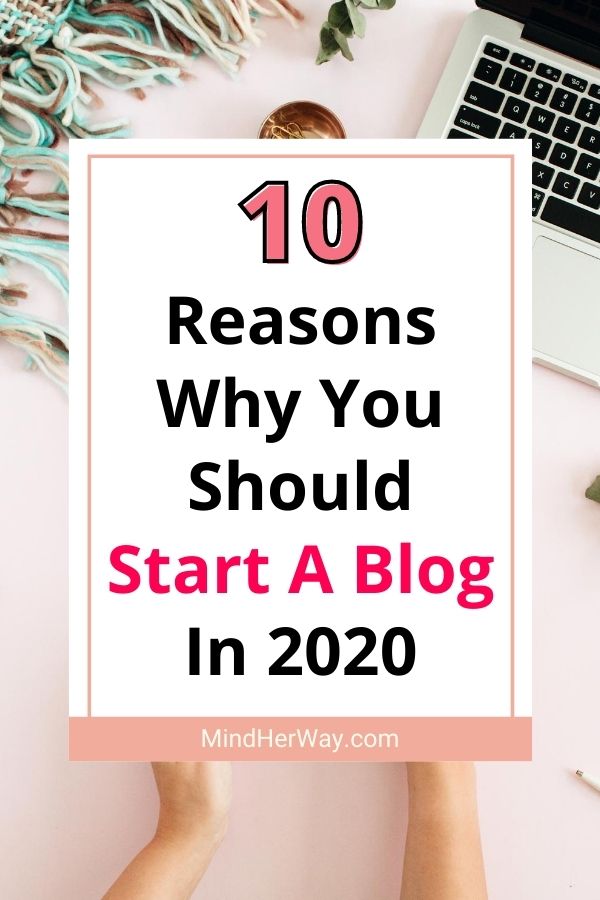 6. Perfect for improving your network
Blogging presents you a networking opportunity on a platter of gold. Whether you are an introvert or an extrovert or in between-vert, being a blogger helps you a great deal when it comes to meeting and socialising with new people. 
Owning a blog is not acquiring a one man island because blogging is a community where interaction is necessary. 
You'll get to have readers who'll have questions to ask you, subscribers who will like to have your helpful information from time to time and even other bloggers who might be of help (they don't necessarily have to be regular competition). 
You won't just be building a fan base, you'll get to build meaningful relationships too.
7. Did somebody say 6-figures?
Yep, with blogging, you actually have the opportunity to earn the 6-figure income of your dreams. Remember, this will take time and growth, but it's still very possible. 
Starting a blog provides the opportunity to strike a balance between your earnings and your spending. Of course, it requires lots of diligence and consistency but it's so worth it! Wondering how to make money by owning a blog? Let's quickly explore a few ways:
Affiliate marketing: Wondering why you need more traffic on your website? This is why. As there are brands and products that need to reach a larger market, adding assigned affiliate links on your blog is a great way to cash out as a blogger. 
Sales of digital products such as audio books, courses,  video tutorials etc.
Writing of sponsored content; if for instance you run a food blog, you can get to write content about the new flavor a seasoning company just produced while telling them the health benefits of a well cooked spaghetti sauce.
Posting of Digital Banners: Here, you get to make money either by CPC (click per post) or cost per thousand. All you have to do is post digital ads for brands or a product. It could be placed anywhere on your site but they are mostly inserted on the top bar or in between posts.
Running coaching services, writing guest blog posts and even selling your newsletter outlets are other ways to earn good bars when you become a blogger.
8.  Contribute to the world responsibly
With blogging, comes a sense of responsibility. Running a blog entails posting informative content on your site so others and providing value to your audience. You get to help others and even make significant changes in their lives and since yours is their go-to blog, it means you're responsible for a part of your readers' knowledge base. 
Coming to terms with this will somewhat help you to be more careful with what you say and the content you post. Ensuring the highest level of caution and credibility, not just with the content you post but also in your personal dealings is a great reason to start a blog. 
You get to be more resourceful, make decisions with scrutiny, plan your schedule better, manage your time well, strike a balance between your social and private lives, even spend your money wisely. With blogging, there's no limit to your sense of responsibility and personal development.
9. Get your confidence up
Starting a blog can go a long way when it comes to being confident. Getting to write about your opinion and thoughts on a regular basis will help sharpen your mind and boost your morale.
Also, the feedback you get from your readers, gives you a feeling of being listened to and that could skyrocket your level of confidence and self esteem. 
10. More open doors
Blogging also provides a chance for other opportunities. There are so many successful bloggers who started off by just posting content about certain topics and today, they are into more lucrative activities that are tied with owning a blog.
For instance, when Pat Flynn created the Green Exam Academy blog, his sole aim was to share his opinion and thoughts on architecture. However, when he lost his job, he decided to go into full time blogging and guess what? His blog became  a real business, and he was able to make a  good living from it. 
Flynn's story is one among several people who've started successful businesses through blogging.  Also, it's noteworthy that "opportunities" in this instance are not limited to the business world. As a blogger, an opportunity can also be in other forms. 
Bloggers who have been recognized in their niche of focus are usually invited for interviews and even as guest speakers in conferences. Also, you can get sponsored to travel, and partake in various networking functions and meetups in different parts of the world. Mind-blowing isn't it? With blogging, the sky is definitely your starting point.
Bonus – It's not expensive – anyone can start a blog
This is the best news ever!
You can start a blog today for under $5 a month.
Once your blog grows and you actually start making money, then your expenses will probably increase as you add more things to your blog. But for just starting out and getting your foot in the door, it's really cheap.
Bluehost is my number one recommendation for getting your blog started, since they make it super easy to get up and running AND you get a FREE domain name.
You can learn more here about how to start a blog with Bluehost.
Best of all, literally ANYONE can start a blog. If you have an internet connection and a laptop, you can start a blog (and an online biz) today.
Sure, blogging can be hard sometimes and maybe you're uncertain about the tech side of things – but there are tons of courses and free tutorials out there to help you overcome these things.
And I know you can do hard things. You can figure things out. Really, the only thing that's holding you back is you.
Final thoughts
So, if you've been wondering whether you should start a blog – my answer is absolutely YES!
You've really got nothing to lose and so much to gain.
Plus, starting a blog is cost effective and it really is not that difficult. If you've been skeptical about it for the fear of having to hire a tech wizard to set up your personal blog, don't be – if you search around a bit you will see tons of tutorials on how to go about it. What are you waiting for? Start a blog today!
And if there's something else holding you back – feel free to reach out via my contact form and I'll do my very best to help you get started!
Please pin & share these reasons on why you should start a blog!