This post may contain affiliate links. Please read my disclosure policy for more info
Starting a journal can be a daunting task for some. This is especially true if you had no prior intention to embrace writing. As a beginner, you might not know where to start and how to take the first step towards starting a journal. But not to worry, it's really not all that difficult, and today I'll share with you how to start a journal without feeling overwhelmed. 
For you to start living a well-documented life, you need a journal. If you can make journaling part of you, it won't only improve your life but it will also keep you a step ahead when things aren't moving just fine.
Moreover, journaling is a very reliable way to direct and focus your ideas and feelings. It also makes you understand your everyday habits and helps you direct your behavior towards any set goal.

Benefits Of Journaling 
Are you still wondering what you stand to gain from keeping a journal? Well, considering the fact that we live in a busy world, I can guess perfectly that you get stressed often. Now, do you know that by simply keeping a journal, you are already one step ahead in shaking off that stress?
You have to take that advantage and make good use of the numerous benefits that are attached to journaling. Then, your life will certainly improve. 
Some of the benefits of keeping a journal that can motivate you are: 
A Journal…
Gives you increased self-awareness 
Makes you more productive 
Gives you more clarity and greater focus 
Betters your mental health 
Makes you more appreciative and grateful 
Increases your consciousness and mindfulness
Strengthens your willpower
Gives you greater ability to set goals and achieve them 
Boosts your confidence 
Betters your moods 
Alleviates stress 
Is a pathway to self-discovery
Also, keeping a journal will empower you with ideas and make you more creative. You'll simply be inspired.
How To Start A Journal: Be Clear About Your "Why" 
In whatever you do, having a "reason" matters a lot. Journaling is not left out. Therefore, the very first step you should take when starting your journal is to get clear about why you intend to keep such a journal.
How do you do this?
You need to get yourself a book and a pen. Secondly, create a fair time for writing in your journal. Also, get a place that is conducive enough to brainstorm, then ask  yourself some questions like;
Why do I need to start journaling?
What do I intend to achieve from it?
What accomplishments do I want to make?
When you provide answers to these questions, they jointly become your "why" or your "reason".
Some of the likely answers you might come up with (which are your WHY) are; 
I want more clarity about my life.
I need peace of mind and good emotional health.
I want to work on my life goals .
I want to be productive every day.
I want to have something to revisit from time to time.
You can have many more reasons to start a journal. But mostly, the aforementioned are the fundamentals as regards to your WHY. In fact, the importance of having a "why" cannot be overstated, especially when it comes to starting a journal.
And now that your why is intact, you can start making headway!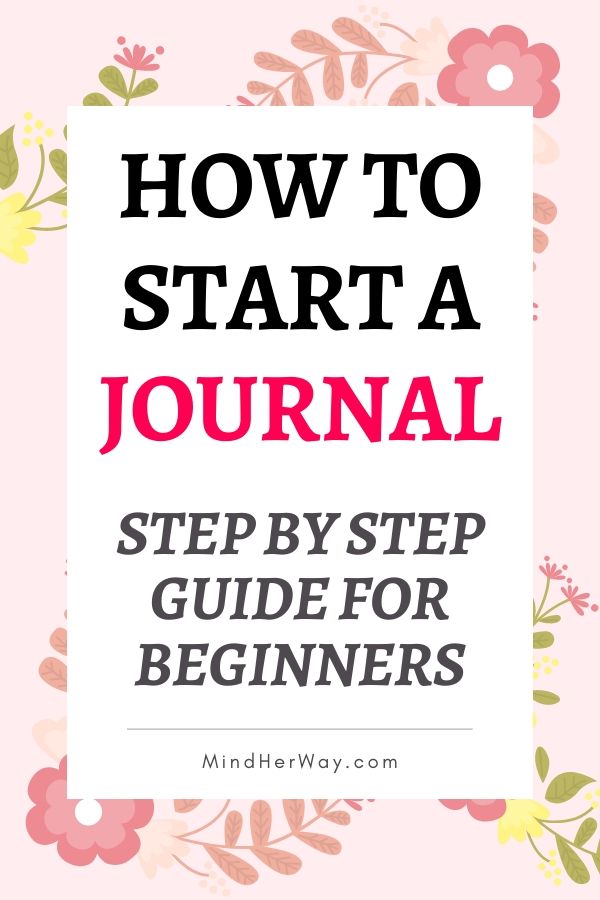 The Rules Of Journaling  
Whenever the word "rules" is mentioned, we often feel like we're in a mathematics class where we must follow a formula in order to get the right result. But the good news here is that journaling is more about being yourself than following stringent rules.
There is no formula for it. Just express yourself in the best way you can and in the simplest manner. When you've considered your "why" and understand the importance of a journal, all you have to do is to pick up a pen and allow your thoughts to flow on paper.
You don't need the best handwriting to start writing! You only need to think and be honest with your thoughts.
In fact, the whole idea of keeping a journal is to get you to express yourself in freedom and honesty. Remember that your journal is your personal property. Nobody has the right to interfere with how you keep your journal. This makes it easier. At least there is no room for perfectionism.
And yes! Grammatical errors are allowed, haha. You can even make a few mistakes in your spellings. As long as it's your journal, then it's totally fine.
Feel free, keep your journal the best way you can.
The Best Types Of Journals For You 
Are you wondering about the best journal for you?
Well, this is the best part because there are numerous options out there. It only depends on what exactly you want for yourself. Hence, go back to where you wrote down your "why", it will make things a lot easier. Your why will determine the choice you will make.
However, these are the best options you can possibly choose from: 
• Dream Journals
This journal is basically to document dreams. Both the ones you have during sleep and the ones you have for the future (oh, day dreams count too!). This journal typically makes you conscious of your dreams. Keeping it will help you follow your dreams.
• Gratitude Journals
The reason to keep this journal is to get you to practice gratitude which is very important in life. All you have to do is to write down all those things you are grateful for each day.
• Bullet Journals
Invented by Ryder Carroll, the bullet journal is best described as mindfulness practice disguised as a productivity system.
It is a very popular journal that most people prefer to keep. Especially those aiming for greater productivity or those who intend to set goals. You should actually start this journal if you want your "why" to be more productive.
• The Morning Pages
The main deal about this journal is to allow you to flow with your ideas (on paper of course). In other words, it gives you the opportunity to write freely and express yourself consciously. It is titled "morning pages" because this activity should be preferably done in the morning hours when your brain is fresh and you tend to be more creative. 
As you write, hold nothing back and don't be judgemental about it, no matter what.
• Journals For Mental Health
When you journal for mental health, you'll definitely lower your mental stress. Your peace of mind will be rediscovered. Plus, certain things about life will get clearer to you. If you are that type that has suffered anxiety, you can embrace this journaling instead of taking medications or therapy sessions. It works like magic.
To make this kind of journaling perfect, you have to distance yourself from your thoughts, including the good, the bad, and the ugly ones. It will help you regain the balance you need towards your emotional wellbeing.
Now, if you are dealing with anxiety or depression, this should be a perfect journal for you.
• Food Journals
Are you overweight or obese? Do you want to lose some pounds? Then you've got the right journal here. Not only will this journal help you manage your weight, but it will also make you more conscious of what you consume. 
To effectively start this journal, you'll have to keep a log of all you drink or eat. Also, you have to time these events and keep a proper record of those times. 
• Journals For Pregnancy
Even as an expecting mother, you still need a journal. 
You simply use the pregnancy journal to keep track of your pregnancy stages and events. You also keep a record of the symptoms or general body changes during this special period of your life. 
• Journals For Arts
This one is for art lovers. Those who cherish and value the beauty of life and nature. You can keep a record of those artistic drawings and paintings of yours. 
• Journals For General Ideas
You can create a special journal for your ideas! Sometimes, a rare idea may just flash across your mind. You have to write such unique ideas down immediately. Moreover, you don't stop at writing them only, you have to follow them up with additional related ideas.
However, because you can never be too sure when these ideas will pop up, you have to always keep this journal close by. 
• The Guided Journal 
Now, this is very important for you as a beginner. Especially if you are unsure about how to get started.
By simply writing in this journal every day, you will be guided into mastering the art of journaling.
• The Dear-diary
This is a typical diary for everyone. In fact, it is the type that records anything and everything.
Just write, write, and write…
How Do I Really Start? 
"How do I start?"… A very relevant question to ask! It is a fact that knowing how to start a journal and keeping up with it every day will be a bit tasking. But, is journaling really fun once you get used to it? The answer is a bold YES!
If you are still wondering if you can do this, well, I can assure you that you can. 
You only have to carefully follow the 10 steps below:
Have the willingness to start
Gather your journaling materials
Create a private time to reflect on your "Why"
Choose the right journal that matches your "Why"
Connect with your thoughts and write them down honestly
Don't delay to write whenever the need arises 
Understand that it mustn't be perfect for it to be a good journal 
Make it fun
Be Consistent
Refer back to your journal regularly 
Basic Materials For Journaling
Of course, you can always upgrade your journaling materials whenever you are able to. But there are some basic items you need for this process to be more fun and easy. And mind you, as a starter, the more colorful your journal is, the more you feel the fun part of it. Therefore, let those items be colorful.
It's understandable that you might just not be able to provide all the materials you need, but where you can, these are the basic materials for journaling:
Please, in gathering these items, don't stress it too much. Get the ones you can first. The most important thing is to get started anyway. 
Finally, When Do I Start? 
Phew, this answer is simple. You can start right away!
Once you have the willingness to start, and you've gotten your materials ready, plus you've discovered your "why"… what then are you waiting for?
Just start!
Make it fun and enjoy the ride.
Now that you obviously understand how to start a journal and how it can improve your life, why not take advantage of the guidelines above and give your life some quality?
Related Reads
Please pin & share these tips on how to start a journal for personal development!