This post may contain affiliate links. Please read my disclosure policy for more info
Today I want to share with you ideas for creating your very best self-care Sunday routine, because let's be honest, life can be hard at times. And it's even more frustrating when you have a lot going on in your life every day. 
Perhaps you've got a job that keeps you busy from 9 to 5. And on reaching home, you have kids to care for, dinner to make, or bedtime chores that will keep you busy till late hours.
It is even more likely that your 9 to 5 job continues at home once you get back every day. Moreover, this stress might have been a continuous cycle – 24 hours a day, 7 days a week. And it might be really hard on you. 
But hold up, have you ever thought of taking care of yourself though? It's something really worth doing! Our bodies are generally wired to relax, shake off, and revitalize after going through a lot. 
That's why – for instance – after many stressful days and sleepless nights, you usually fall asleep at any slightest opportunity even before you realize it. Well, it's simple, your body really needs to cool off. What better day to relax than on Sunday? Live a little!
That being said, maybe you want some easy suggestions on self-care Sunday routines that will help you recharge for the new week.
Psst – Don't forget to follow me on Pinterest for all your self growth, personal development and relationship tips! It will only take a second of your time!
Why You Need A Special Self-Care Sunday Routine
Yeah, yeah, I agree with you that you normally rest on Sundays. It's fine, you do. But then it's not just about resting, but about how WELL you rest! Mondays can be so boring and often, you just wish you could add more days to the weekend. 
Now, what if I told you that I know exactly how you can make the most of your Sundays and be fully ready for the week ahead? Best believe it. Because the self-care activities listed below will boost you both physically and mentally. You'll feel so energized to start the new week!
30 Self-Care Sunday Activities
This is not to say that you can't practice these activities any other day – sure, you can. But for many it is much easier to find time on Sundays so that they can regenerate their energy for the weekdays ahead.
Related Reads
1. Sleep A Little More 
A little more sleep on Sundays is a good way to care for yourself. After all, you've been waking up quite early every other day. It won't be a bad idea to get some extra sleep during the weekend.
Sleeping a little more is a way of creating the necessary balance between stress and rest. It's also a way of reducing cumulative stress.
2. Stretch Your Body Once You Wake Up
Yeah! This is one miracle-working activity. Have you ever tried stretching out your body after sleep? Pretty exhilarating.  Sleeping for over 7 hours makes your muscles a little bit relaxed and numb. Stretching is a good way to reactivate the energy you already regained during your sleep.
3. Have Yourself A Cup Of Coffee/Tea
After the stretching, it won't be bad to make yourself a cup of tea or coffee, or any other drink that makes you feel good in the morning.
4. Take A Bath Instead of a Shower
During weekdays, you probably don't have enough time to draw a warm bath… you often shower quickly and rush off to work. But now, remember it's the weekend. It's the best time to give your body what it needs.
Relaxing in your foamy bathtub will help calm you and set the mood for the day.
5. Use Hair/Face Masks
One of the best activities for your self-care Sunday routine is taking care of your hair and face. You want to look good, right? Then your face and hair should matter!
You might not have the time to apply hair and face masks every day. But it is something you should be able to do on Sundays – whether in the morning or evening.
6. Make A Healthy Breakfast For Yourself
Okay, it might have been everyday for junk food. But on Sunday, you should give your body what it really needs – a healthy diet. Spend some time in the kitchen! After all, you have the whole morning to yourself. 
As part of the rebuilding process, you need to feed healthily over the weekend. You might not feel the impact immediately, but trust me, healthy meals will help rebuild your worn out tissues and regenerate your strength.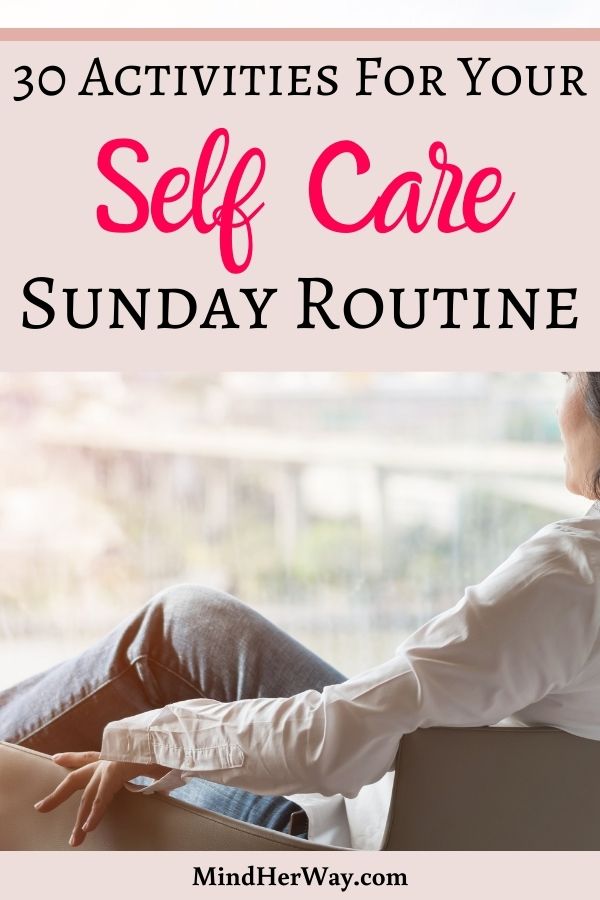 7. Relax On A Couch – Relax
After you've eaten, just relax on a couch or comfy chair. Better still, get the perfect dessert while relaxing. This is a perfect opportunity to think about those things you're usually too busy to think of!
You'll be amazed by the insights you'll gain by just relaxing. As a matter of fact, that's when great people get inspired to do great things! 
Learn to relax at times.
8. Listen To Your Favorite Music 
While relaxing, you can also listen to your favorite music.
9. Watch Your Favorite TV shows Or Movies
Another activity you should try adding to your self-care Sunday routine is enjoying your TV. Those Netflix movies you've always wanted to watch but due to time constraints, you've not been able to – Sundays are perfect for them.
You can also watch other TV shows that are available on Sundays. Or do you prefer watching basketball or football? Just do what you will actually enjoy! 
10. Declutter A Bit 
Decluttering is a good routine to practice. While some may find it stressful to do a total clean up, I'm sure nobody finds it difficult to declutter a little bit. Don't you feel good after you've dusted and cleaned your room? 
When you tidy up, it makes you comfortable in your immediate environment and enhances your mood and vibe. Of course, when you are in that good mood, the energy around you will definitely be positive too.
11. A Tall Glass Of Water 
There is a popular saying you might have heard which is – water is life. I agree totally with that. The importance of staying hydrated cannot be overemphasized. It's not only good for your health but also good for your life entirely. 
For instance, during a difficult time that makes you feel tense, just a cup of cold water might be all you need to calm your nerves.
12. Read Motivational Books 
Talking about amazing self-care activities you should adopt, have you ever thought of reading motivational books?
Such books will literally energize your mind!
13. Write Yourself Love Notes
Just like you make other people feel special by writing them love notes, you can do exactly the same for yourself. It is called  SELF LOVE.
14. Talk A Walk Around The Neighborhood 
Aye, this is actually a great routine to embrace on a less busy day – like Sunday. It's important to familiarize yourself with your neighborhood. Just take a walk around.
15. Plan For The Next Week 
It's absolutely important that you plan for the next week. Probably later on a Sunday evening, you can schedule your weekly events, or better still create a to-do list of the things you'd like to achieve the following week.
It will make stuff less hectic for you and generally get you more ready for the tasks ahead.
16. Put On Headphones And Sing At The Top Of Your Voice 
This is one of the best feelings you need to experience – singing out with your headphones on.
While you might not have the greatest voice in the world, you will always sound amazing To Yourself once you have your headphones on.
17. Arrange Your Photo Album 
Ever thought of organizing your photos?
As part of your self-care Sunday routine, you can actually recreate memories by placing those special pictures in an album.
18. Listen To Podcasts That Will Keep You Motivated 
This will simply help you start the new week on a good note.
19. Have Your Siesta 
Taking a nap on a Sunday afternoon (after lunch) won't be a bad idea at all. Remember, it's all about regaining your strength for the week ahead.
20. Water Your Garden
The garden in your home matters a lot. It has a way of making your body feel so calm. It also makes the environment serene. 
Moreover, when you water your garden, there is this special satisfaction you feel – because you'll be able to watch the plants flourish.
21. Dress Up And Make Up 
Want to embrace a rewarding self-care Sunday routine? You can put on some of your best outfits and even makeup while sitting at home. You can also take some sweet selfies and dance to your favorite music while you feel yourself! It feels good to look good. 
And trust me, this is a great way to show yourself some love. 
22. Light A Perfumed Candle While You Do Your Skincare
A primary way to take care of yourself is by caring for your skin. You might not necessarily have every day to give your skin that special care that it needs to glow and sparkle.
But it won't be difficult to do it on Sundays. Clean your skin thoroughly, and light a scented candle in the room. Then gradually apply some moisturising cream on your skin. 
This will give you a more rejuvenated and charming look on Monday morning.
23. Leave Yourself A Motivational Note 
Just before retiring to bed on Sunday night, write yourself some motivational notes to wake up to the next morning.
Inside such notes, tell yourself things like:
I'm strong
I can do this 
I'm smarter than I think 
I don't crack 
I'm not a quitter 
I will finish this
Such words will have you motivated to take the new week by storm. 
24. Watch Videos That Inspire You
There are lots of people whose lives changed just because they watched a video clip that inspired them. You can take advantage of such videos too. Especially on a chilled day like Sunday.
25. Sleep Earlier On Sunday Evenings 
Weekends might afford you the opportunity to sleep a little more in the morning. But the same cannot be said about Monday mornings. 
Monday mornings are usually rush hours. You barely have enough time to complete your morning chores before heading to work. So, try to sleep earlier on Sunday evenings in order to wake up stronger and energized on Monday mornings. It can be quite tempting to sleep late on Sunday since it's been such a relaxing day. But don't fall for it, sleep early!
26. Take Deep Breaths Regularly
It's actually very healthy to take deep breaths on a regular basis. Monitor your energy level and take deeper breaths from time to time.
27. Take Yourself Out On A Solo Date 
Oh yes! This is one way to give yourself a special treat. Take yourself on a date; I mean, just you. It might feel awkward at first but it is absolutely worth it in the end. It will help teach you to enjoy your own company. 
28. Buy Yourself Some Gifts 
It doesn't have to be expensive, but it should be special. Gifting yourself is a good way to demonstrate self-love.
29. Mani and Pedi? Yes please
Some people are actually so busy that they hardly have the time to notice how unkempt their nails are. So, it's only fair to get a manicure and pedicure on a Sunday. As part of your self-care routine, you should pay some attention to those fingernails and toenails and have them fixed up.
30. Get A Massage From A Professional
After having that stressful week, and your exhaustion is evident from your body aches and muscle cramps, it is best you get massaged by a pro.
That's the least you can actually do for yourself in order to get back to your best.
Final Thoughts
At this point, you will agree with me that life needs to be balanced – there should be time for work and time to unwind.
Just like machines require some time to cool off after several hours of constant work, the human body also needs time to recuperate after a strenuous week – a self-care Sunday routine is the simple answer.
Please pin & share these ideas for a self-care Sunday routine!